March is giving me the opportunity to live out the adventures I have only dreamed of before. It's always because one doesn't have the time to do it, there are other commitments, or there is simply no interest. However, March has shown me the power of attraction and now, I have a message to all of those inhibitions from the past: STFU. Hahahaha. (Okay, I guess I drank too much homemade gulaman.)
Let's start with: MARCH 3, 2010. The Day Spontaneity Was Born
I went to school for clearance. I just needed to submit one final form for the transfer of organization funds to the next President. Aww, my term is over already. Anyway, a lot were still doing their clearance forms and so I hung out with them. I saw Karen and she was like "Let's go eat isaw in UP!" I don't eat isaw but then I want to go somewhere else. After my clearance was already done, I decided to pass it some other time (which is a big mistake haha). I went with Karen, Ralph, JM, Lau, and Apple to UP and had our fruit shakes, fish balls, their isaws, the failed quest for gulaman, and the funny search for the "halo-halo made like a pro" which when we finally saw the place, we didn't buy. We spent a few good minutes on that search. And who would forget the crazy blast from the past c/o Karen's iPod.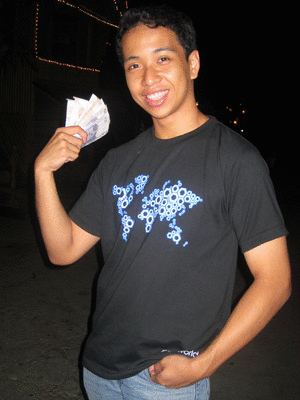 This is Ralph and he is filthy rich with loose change. Haha.
After UP, we went to Antipolo and enjoyed the overlooking. It was JM's first time to eat
isaw
and be in Antipolo's overlooking
inuman
areas.
And then we went straight to Lace's place. For the "hmm,
inom tayo?
"
moment. Surprise! What was thought to just be a 4-person drinking session became a... how many were we then? 10? It's good nonetheless.
MORAL: Things don't always go as planned. So don't swear by your planner.