I have never read something more suited to my "morning" life than
this
. In fact, it made me write this entry!
This is why companies with flexible hours are so appealing to me. If I get a job with a specific time-in and time-out, I'd probably be laid off in a month (read #9). Mind you, I've had progress from showing up 2x a week, to showing up every day in the office. There is no routine in my life, except when I worked in Makati because I have to catch the company shuttle from Eastwood to Makati. And it is set that either I take the 6:30 AM ride or the 7:00 AM ride. If I miss out the 7:00 AM ride, I might just pray, cry, or wish I was sick because there is no way C5 and EDSA would part a la Red Sea for me. Traffic can be a motivation, but not that much. Taken from Buzzfeed

I even have a timer for 3 minutes - fooling myself to
wake up after 3 minutes. Imagine the impact those minutes can bring me each day.
Back to the
golden Buzzfeed post
.
#s 1-6,
Every morning I question my existence. How at my age, I'm still a lazy ass rolling out of bed instead of waking up with a "hello, sunshine!" smile plastered on my face. I just can't. It's one of those things I can't pretend to like. Of course, waking up means you're alive but life doesn't register that early* to me. It's a daily struggle.
Coffee doesn't help me in a way that it makes me feel better about
myself
life. I need coffee because I treat it as my responsibility juice - once I take it, I have no excuses left anymore. Taken from Buzzfeed.
#7
Seriously, nothing is more important than continued sleep. Supposed to be meeting a friend? Fuck friendship.
This says a lot. It's why I haven't accepted a brunch invite in years. Oh wait, I did. I just didn't sleep till we were done with the brunch. Next thing I know, I'm ready for a midnight snack. If ever I get a breakfast date, I'd probably be dozing off (since I won't sleep to be able to make it to "breakfast" time) or zombie-ing it out. Not good for any social life.
It's also the reason why I always miss out the breakfast buffet in hotels. Who eats from 6-9 AM?! It should be 11 AM - 2 PM! Justice!!! Include #11 on this, I don't do breakfasts. Nopies.
#8
Supposed to be in class, getting an education to give you a better shot in life? OH WELL.
The moment we had freedom to choose/make our schedule back in college was one of the happiest moments in my life. Most if not all of my classes started 1:30 PM. Uh-huh. I wasn't born at 6:05 PM (I checked my birth certificate) to be a morning person.
#18
The very best thing about the weekend is, of course, the fact that you can sleep in.
I love you so much if we're meeting on the weekend when the sun is still up. There has been a lot of times that I woke up to see my family having dinner downstairs. And there were even times they had to check in on me to see if I'm still alive or if I have died in my sleep.
#10, 22
I still do believe that tomorrow will be the day I will wake up in the morning with a perfectly good mood that it'd make me want to start writing a journal. Who said we're not hopeful people?!
#23, 24
Yes, I have given permission to folks at home to kick my bed, slap me, shout at me, or whatever is needed for me to wake up early - let's say I have an appointment in the embassy or an exam, or something really important (because it will be unimportant if we leave the judgment to my waking self). I have also tried to convince myself that an early morning jog/run is the best way to make me fit and the only way that would happen is if I sleep with my running attire already.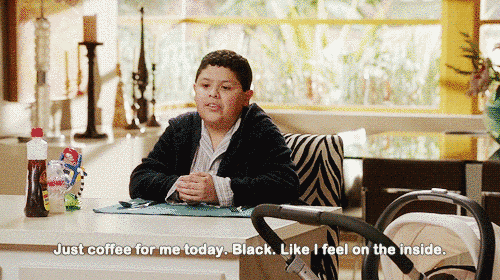 Taken from Buzzfeed.
*early is purely subjective for me